Please visit the new website for this service 3 Hares Equine Performance

Equine Osteopathy is an effective and established musculoskeletal treatment for horses. Like other forms of Osteopathy it works using a combination of massage, stretching and joint mobilisation to help improve blood flow, regulate nerve supply and rebalance body movement.
Improve performance and health, reduce the occurrence of injury and pain!
To function to the best of their ability horses need to be in the best condition possible. A tailored programme of Osteopathy along with quality schooling, tack that fits properly, stretching and exercise can help to begin to achieve this.
Equine consultations will usually last 45 minutes and involve a full case history, active and passive assessment (occasionally ridden), Osteopathic treatment and a rehabilitation/exercise plan.
Please contact us for information on pricing, we have a standard fee for assessment and treatment. Discounts are available for multiple bookings and a call-out fee may be charged depending on travelling distance.
Veterinary Consent/Referral
It is a legal requirement to gain consent from your Vet before any treatment can be conducted. This is easy to do and may either be by written consent or if at short notice verbally will suffice. Please print and complete the consent form below prior to your appointment.
Equine Osteopathy Consent Form
Remember: Osteopathy is great for you and your horse.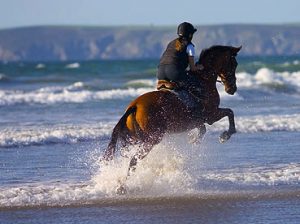 It is important to consider the rider in the equation too, biomechanical issues can easily transfer from rider to horse so treatment of both parties can be an essential part of resolving on-going problems. Osteopathic assessment and treatment of the rider may also help to improve problems with riding technique by helping the body to function smoothly and in a balanced and co-ordinated fashion. Please follow the link for Osteopathy on humans.
Why your Horse may need to see an Equine Osteopath:
– Reduced performance
– Helping to improve mobility in competition horses
– Gait changes: Short strides/tracking up, loss of collection, crossing canter lead, rushing up or down hill
– Reluctance to trot/canter
– Bucking between transitions
– Sensitivity to brushing
– Going cold backed
– Problems with head carriage or turning
– Back lameness
– Changes in behaviour: bucking, bolting, rearing
– Muscle spasm/imbalances
– Stiffness in older horses
– Aiding in injury rehabilitation for diagnosed conditions